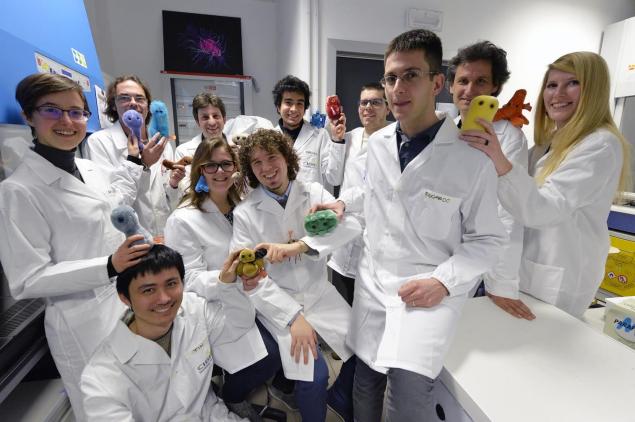 The lab and our microbial friends as of March 2016.
Nicola Segata

Principal Investigator
Nicola Segata is an associate professor and principal investigator. Is background is in metagenomics, machine learning, microbiome research, and microbial genomics. He started and he is leading the Laboratory of Computational Metagenomics at the Centre for Integrative Biology (University of Trento).
Federica Pinto

Postdoctoral fellow
Federica joined the Lab in November 2016 as a postdoctoral fellow. She is interested in microbial biodiversity, focusing mainly in viruses, in aquatic ecosystems. Her project (MetaVirAlp-Marie Skłodowska-Curie IF) focuses on the characterisation of viral and bacterial communities in Alpine Lakes.
Federica Armanini

Research Assistant
Federica is a biologist working as a wet lab technician, she has joined the lab in March 2015. Currently she is processing the samples from different projects, preparing them for sequencing.
Francesco Asnicar

PhD Student
Francesco has joined the lab in March 2014. He is a PhD student participating in the interdisciplinary program on Computational Biology. His major research interests are metagenomic and phylogenetic analyses.
Serena Manara

PhD Student
Serena has joined the lab in November 2014. She is a PhD Student in Biomolecular Sciences, currently working on microbial communities of Cystic Fibrosis lungs using a metatranscriptomic approach.
Graduated in Dentistry at the University of Verona in 2009. 3-year Post-graduate School at University of Milan, and awarded a certificate as Specialist in Oral Surgery in 2012. In 2015 he achieved the Master Diploma in Oral Implantology at the University of Padova. Currently he is PhD Candidate at CIBIO with a research project on peri-implant diseases.
Moreno is a PhD Student in Biomolecular Sciences with a background in Computer Science. He joined the lab in 2013 and is now working on the characterisation of viruses in the human microbiome from metagenomics.
Francesco Beghini

PhD Student
Francesco is a PhD Student. He is currently working on the characterization of Blastocystis spp. in the human microbiome and on the characterization and the evaluation of the effects of tobacco exposure on the oral microbiome of New Yorkers enrolled in the New York City Health and Nutrition Examination Study.
Paolo Manghi

Postgraduate student
Paolo has joined the lab in January 2017. His main research interests are bounded to the History & Geography of human being and to the machine-learning approach in Bioinformatics.
Nicolai Karcher

Master Student
Nicolai obtained his Master's degree in Molecular Biology in the Zeller group at the EMBL in Heidelberg where he benchmarked ecological dissimilarity measures on microbial abundance data. He joined the lab in July 2017 to explore the global diversity of Eubacterium rectale strains using metagenomic assembly.
Mattia Bolzan

Postgraduate student
Former visitors
Galo Adrián Serrano
Visiting PhD student
Iñaki Comas Lab, Valencia, Spain
Tom van Wijk
Visiting Scientist
Eelco Franz Lab, RIVM (Utrecht)
Kristen Meyer
Visiting Student
Aagaard Lab, BCM (Texas)
Bruno Fosso
Visiting PostDoc
IBIOM - CNR (Bari)
Andrew Thomas
Visiting PhD Student
University of São Paulo
Vedrana Vidulin
Visiting Researcher
Jozef Stefan Institute
Atara Uzan
Visiting PhD Student
Koren Lab, Bar Ilan University, Israel
Lucas Schiffer
Visiting PhD Student
Waldron Lab, CUNY, US
Daniela Dolce
Visiting Scientist
Meyer Hospital, Italy
Yadira Galeano
Visiting PhD Student
Universidad de Antioquia, Colombia
Urša Bole
Visiting Bachelor Student
Sander Wuyts
Visiting PhD Student
University of Antwerp
Valerio Iebba
Postdoctoral research visit
Sapienza University of Rome
Sokhna Gueye
Postdoctoral research visit
Former Group Members
Pamela Ferretti
Master Student
Now PhD Student at EMBL
Tin Duy Truong
Postdoctoral Fellow
Now in Industry
Giulia Corsi
DISI Master Student
Federico Taverna
DISI Master Student
Luca Erculiani
DISI Master Student
Thomas Tolio
DISI Master Student
Roman Stolyarov
Bachelor Student
Now at MIT
Manuel Micheloni
High School Student
Now at University of Trento
Temesgen Dadi
Master Student
Now at the Max Planck Institute